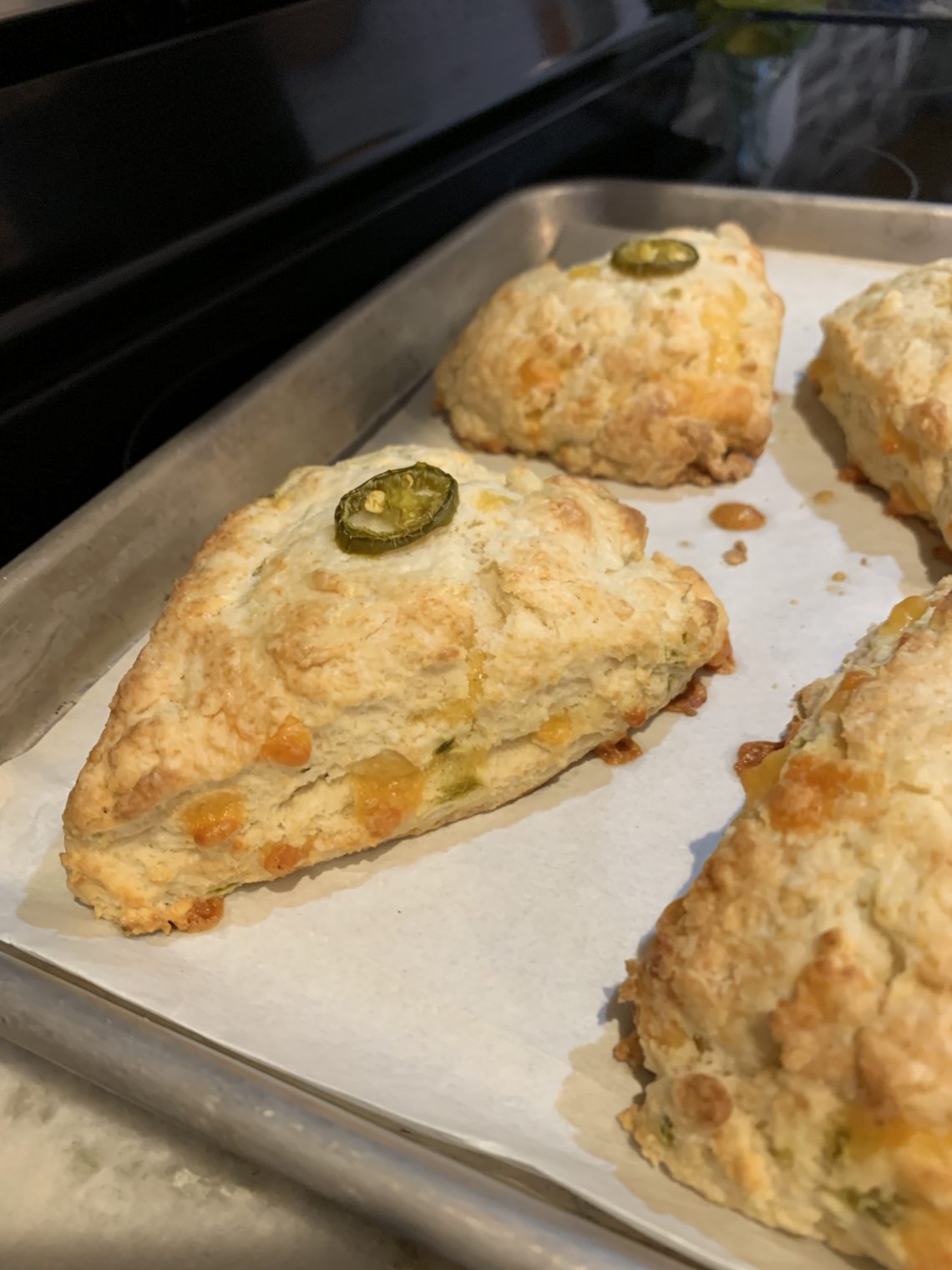 I love a good biscuit…and what is a scone but a dressed up biscuit, am I right? I also love having a basic recipe that can accommodate all of the crazy combo ideas I have in my head while still coming out fluffy and delicious.
If any of you have ever been to the cafe and had one of our scones, this was the recipe I used. It's ridiculously simple and a great blank canvas for you to get creative. Make them sweet or savory or try seasonal fruits and veggies. As I sit here, editing this post the ideas in my head for new scones are popping up. I hope you let your creativity free and make these delicious scones.
Enjoy!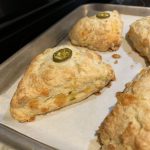 Print
basic scone recipe
Here is my basic scone recipe, I use it to make all different kind of variations. Both savory and sweet. Its a great jumping off point.
Ingredients
3

cup

AP Flour

1/3

cup

granulated sugar

2 1/2

tsp

baking powder

1/2

tsp

baking soda

1

tsp

kosher salt

12

tbsp

unsalted butter

1 1/2 sticks (very cold)

1

cup

buttermilk

2

tbsp

heavy cream
Variations Cheddar Jalapeno
1

cup

grated cheddar cheese

1/4

cup

chopped pickled jalapeno
Variation Cranberry orange
1

cup

craisins

1

tbsp

orange zest

1

cup

powdered sugar

1

tbsp

orange juice
Variation Raspberry Almond
1

tsp

almond extract

1

cup

fresh raspberries

1/3

cup

sliced almonds

1

cup

powdered sugar

1 – 1 1/2

tbsp

milk

1/2

tsp

vanilla
Instructions
Preheat your oven to 425 degrees or 400 degrees convection.

Line a sheet tray with parchement paper, or spray with non stick spray.

Mix all of your dry ingredients together in a large bowl

Grate your cold butter and add it to your bowl

Work the flour and butter together just until butter is small pea sized, then add your add ins ( in this case I added cheddar and jalapeno)

Mix together with a fork, until evenly distributed. Make a well and add your buttermilk. Bring it together in the bowl with a fork until it starts to come together. If it looks too dry add a little more buttermilk a tablespoon at a time. ( I added 1 more tablespoon) then dump out onto your board (counter).

I used parchement paper to fold over the ingredients. It keeps warm hands from melting the butter to much. Fold it over about 5 – 6 times and then shape into a cirlcle. Cut into 8 pieces. Place it on your lined sheet tray.

Brush the tops with heavy cream and top with desired topping (I chose a jalapeno ring) (If I was doing a sweet scone I may top it with coarse sugar). A little bit of cheese would be nice as well.

Bake for 18-22 minutes, I check it after 15 and rotate the sheet pan.
Notes
For the  Cranberry Orange : add orange zest and craisins to the dry mixture before adding the buttermilk. While the scones are baking make the orange glaze with the powdered sugar and orange juice. Drizzle onto the warm scones.
For the Raspberry almond: mix your almond extract in with your buttermilk and make the scone without any add ins. Once you dump your mixture onto your board, add the raspberries, incorporating them as you fold them in. Shape and cut as normal and after you brush with heavy cream sprinkle on your sliced almonds to the top. While the scones are baking make your vanilla glaze. Drizzle onto the warm scones.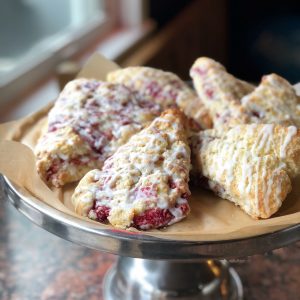 For the cheddar jalapeno: I often add a 1/2 cup of chopped cooked bacon to this. If I do I reduce the cheddar to 3/4 of a cup.