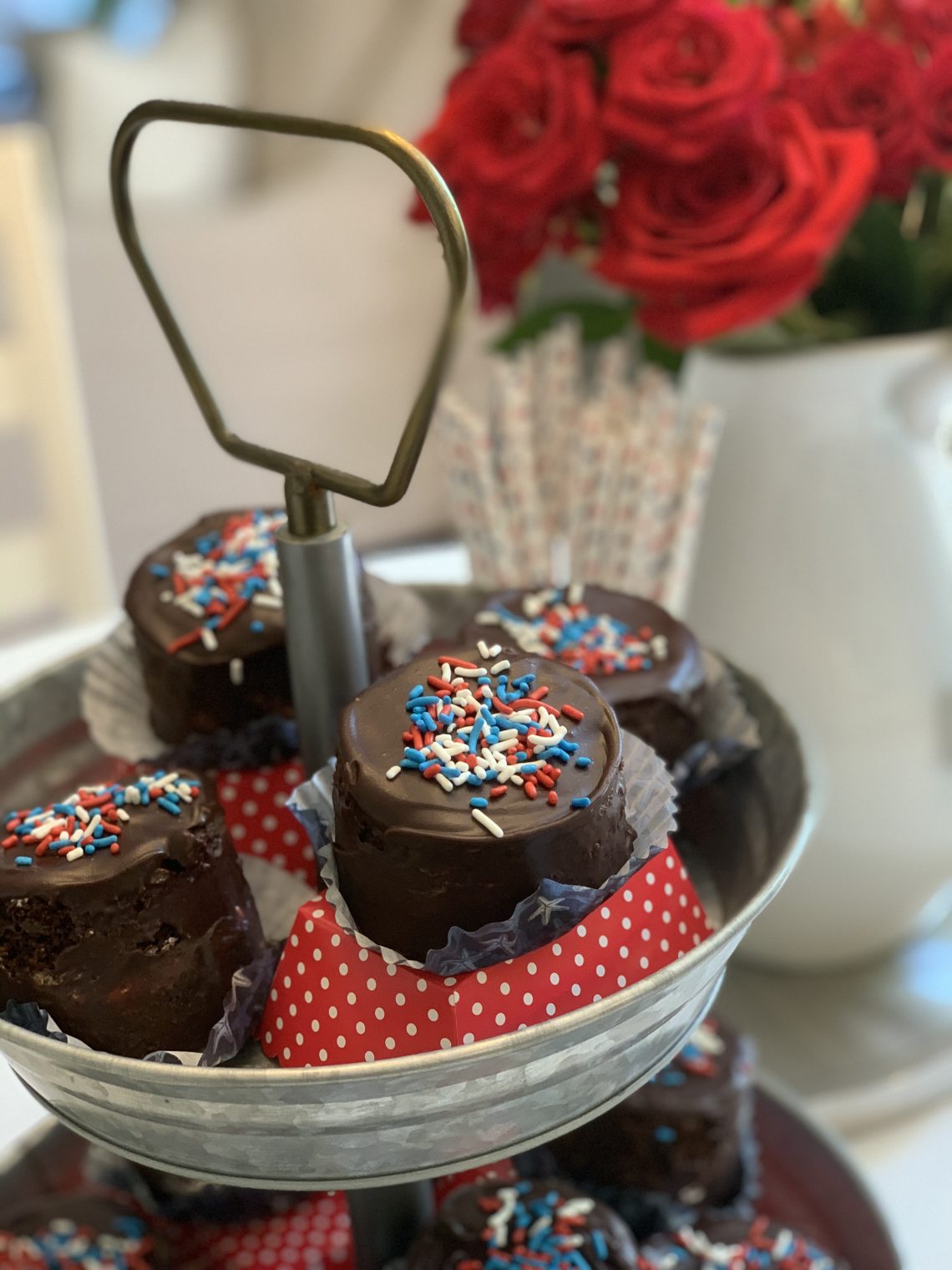 "Ring ding" inspired cakes
Isn't it crazy how things come about? My husband and I were watching Transformers, a movie we have seen a million times before, and there is a part where the president asks one of his staff members on the plane to "rustle him up some ring dings". Well that turned into a whole debate about what snack cake was the best, and how much they have changed, how much smaller they are and how they no longer taste as good as they used to.
I knew what was coming next….
My husband turns to me and asks "can you make me some ring dings?" How could I say no? Admittedly I should have said maybe another time… as I started these at 8:30 at night, but I have made this chocolate sheet cake so many times that I can do it in my sleep. And as it turns out all of the ingredients were already in my pantry.
Now my problem is that he is making a mental list of all of the other snack cakes he used to love that he wants me to recreate. Once again I have created a monster. LOL!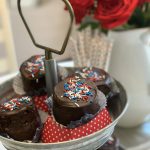 Print
Home made "ring dings"
A home version of a childhood treat
Ingredients
2

sticks

unsalted butter

1

cup

coffee

3/4

cup

cocoa powder

2

cups

granulated sugar

3/4

cup

sour cream

2

lg

eggs

1

tbsp

vanilla extract

2

cups

AP flour

1

tsp

baking soda

1/2

tsp

salt
marshmallow butter cream
1 1/2

sticks

unstalted butter

softened

2

cups

powdered sugar

pinch

salt

1

tsp

vanilla extract

1

tsp

heavy cream

2

cups

marshmallow fluff
chocolate ganache
2

cups

semi sweet chocolate chips

1 package

3/4

cup

heavy cream
Instructions
Prepare your pan, spray with pan spray and lay a sheet of parchment on it. In a small bowl combine sour cream, eggs and vanilla. In another bowl combine flour, baking soda and salt. Set aside. Pre-heat oven to 350 degrees.

in a medium pot over medium heat add butter, cocoa, sugar and coffee

Whisk until melted and it just begins to bubble then take it off the heat

dump in the flour, baking soda and salt and begin whisking

Then add sour cream, egg and vanilla mixture and whisk to combine it all

Pour into prepared pan and even out as best you can and place in the oven.

It takes about 12-14 minutes and I rotate the pan half way to prevent one side from being higher. Let cool.
Marshmallow Frosting
While the cake is cooking make your frosting. Whip your softened butter until it lightens, about 2 minutes, scraping down the bowl occasionally. Then add powdered sugar and a pinch of salt. Mix to combine. Then add vanilla and heavy cream and whisk until fluffy 2-3 minutes. Add 2 cups of fluff and whip just to combine.

Cut cake in half and add frosting on half of the cake and spread.

Then flip the other half onto the frosted side. Freeze for 15 minutes to set up.

After cake starts to set up, its time to cut. I used rounds, which does leave a lot of scraps that the people in my house were more than happy to take off my hands, but you can easily cut into squares.

once again after you have cut out your rounds (or squares) return to the freezer to set up another 15-20 minutes.
ganache
Take your package of chocolate chips, I used nestle this time because that is all I had in the pantry. Place into a bowl. Heat heavy cream until just scalded (bubbles start to form on the edges but its not to a boil). Dump the cream over the chocolate and let it sit for a minute. Then whisk it smooth. It will be thick almost a pudding consistency.

Time to glaze up the cakes. Remove the cakes from the freezer and place about 2 tsp of ganache on the top. Smooth it out and using an off set spatula or spread ganache on the sides.

Add sprinkles and place in the refridgerator to set up. ( I placed it in the freezer so I can let it set up quicker in order to cover with plastic wrap for the net day)
Notes
You can use milk chocolate or even white chocolate if you prefer. Both would be yummy!
I use this chocolate sheet cake recipe for a lot of things, its rich and dense and works well with layering. I've been known to keep one made in my freezer for quick dessert….