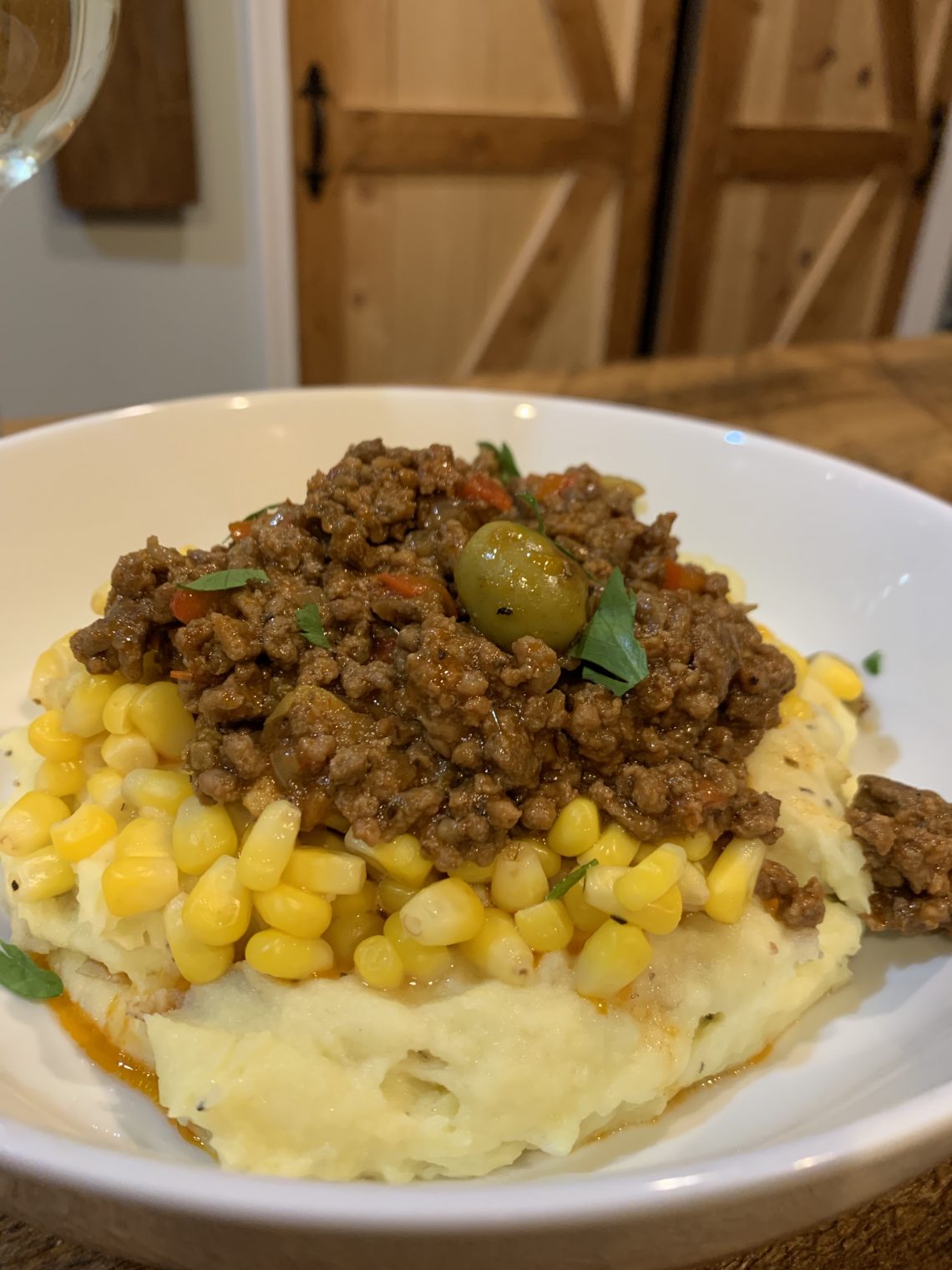 Versatile picadillo recipe
I have a bunch of "basic" recipes that I use a for number of things. Here's one at its simplest that can be added to and changed to adapt to however you want to use it.
In my house we use Picadillo for filling empanadas and relleno de papa (potato balls), we top rice or garlic mashed potatoes with it. I've even made some seriously good grilled cheese sandwiches with it. OH YEAH, they were delicious!
When you have great basics, its just a jumping off point to amazing dishes that you can customize for your tastes and situations.
Now that you have your basic Picadillo recipe bump up the flavor by adding a few different ingredients like cinnamon and cumin, raisins and almonds… there's warmth and sweetness and crunch then its the perfect filling for tamales. Or, change the beef to chicken or turkey and lighten up the dish. But I am getting ahead of myself. Today we keep it simple.
Enjoy!
Print
Picadillo
basic puerto rican style picadillo
Ingredients
2

pounds

ground beef

1/2

lg

onion

small dice

1/2

lg

red bell pepper

small dice

2

tbsp

sofrito

home made or store bought

2

packets

sazon

to taste

salt and pepper

1/4

cup

olives

I use whole manzanilla olives, but sliced "salad olives" works well

8

oz

tomato sauce

I use 1 can of goya

1/4

cup

water

2

tsp

oregano
Instructions
In a large saute pan over medium high heat brown your ground beef

Drain the rendered fat and add onions, peppers, sofrito, sazon, oregano, salt and pepper. Cook for about 5 minutes to soften peppers and onions

Add tomato sauce, water and olives. Stir and cover. Simmer on low for about 20 minutes.

Re-season if necessary and it is ready to eat. Use it to top garlic mashed potatoes with sweet corn.

Or place on a cookie sheet to cool down to use later

I used it to fill baked empanadas
Print
Empanada dough (baking)
Here is a quick empanad dough that I use for baking. Just grab your favorite filling.
Ingredients
2 1/2

cup

AP Flour

1

tsp

salt

1

stick

unsalted butter

cold, cut into cubes

1

lg

egg

1/4

cup

ice water

may need more, depending on flour used, humidity…I needed 1 extra tbsp today…

1

lg

egg

for brushing right before baking
Instructions
in your food processor, add flour and salt and pulse to combine. Or you can mix in a large bowl.

Add cold butter and pulse until butter is about pea sized. Or you can use a pastry cutter or your hands to work in the butter.

add egg and 1/4 cup of ice water and pulse until it comes together when pressed. It till still look pretty corse and resemble wet sand. If it doesn't look like this after 1/4 cup of water, add 1 tbsp of water and pulse and try again.

pour out onto counter and form into a ball, wrap with plastic wrap and let it rest in the fridge for at least an hour before using.

Remove from fridge, roll out to about 1/8th of an inch

Using a 3 inch round cookie cutter, or cup, or empanada mold cut out your rounds. Fill with your favorite filling

Using a little bit of water around the inside edges press together and using your finger, a fork or your empanada press close them up tight. (As you can see I used a few different methods)

Brush with eggwash and bake. 400 degrees for 15-18 minutes until golden brown.
Notes
You can fill these with any filling. Try our Picadillo recipe, or if you have left over shred it and mix it with some bbq sauce, chopped jalapeños and cheddar. Ham and cheese works too. Pepperoni, mozzarella and marinara…yum. You're only limited by your imagination.