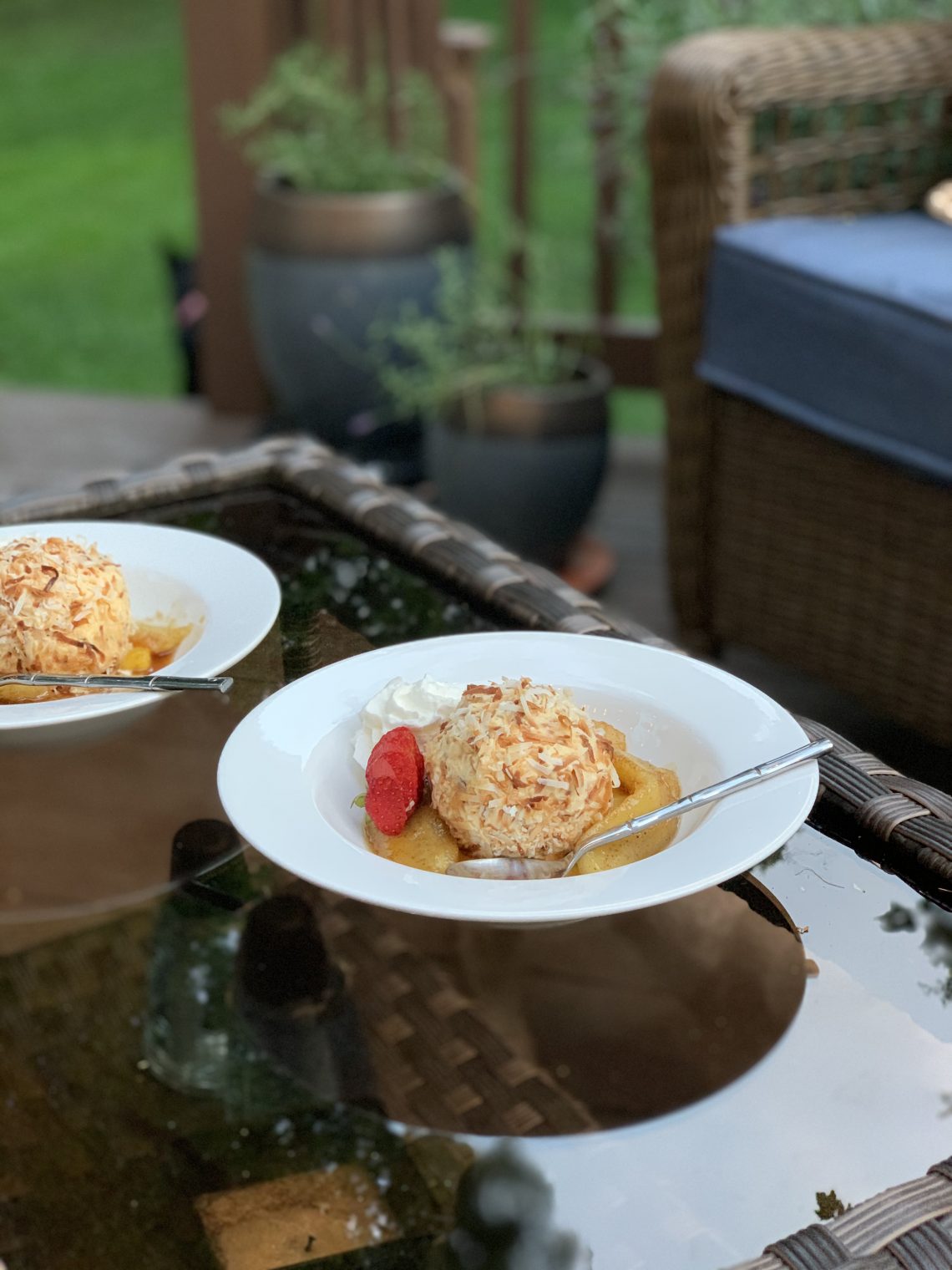 When I think of bananas foster, I think of… no not New Orleans… I think of friends, gatherings, perfect endings to perfect days. Lobster boils and smells of the ocean, laughter and tall tales, kids running around way past their bedtimes and the promise of another amazing day ahead. I have so many memories associated with this rich, sweet, boozy dessert that is both warm and cool, smooth and full of texture at the same time, that it just wouldn't be summer without it.
So of course I couldn't let the Fourth of July pass without sharing this dessert that is a go-to of mine during the summer. It never gets old, and it can be as elegant as you want to make it or casual for a week night treat.
Now that you have this little recipe… play with it. Change the fruit, I've done this with apples and brandy and served it over ice cream with nutty granola. Or peaches and grand marnier with crumble topping. I can go on. I hope you add this to your summer entertaining. Enjoy!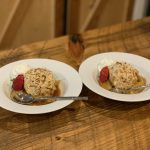 Print
Tropical Bananas Foster
A tropical twist on a classic new orleans dessert.
Ingredients
1

cup

shredded coconut

1/2

gallon

vanilla ice cream

4

tbsp

unsalted butter

1/2

cup

brown sugar

1/2

tsp

cinnamon

pinch of kosher salt

2

bananas

1/4

pineapple

peeled, cored, sliced

1/4

cup

dark rum

I used Bumbu but you can use: bacardi, meyers, captain morgan… (you can also sub with orange juice if you don't want to use alcohol)
Instructions
Pre heat oven to 350 degrees. Spread the shredded coconut on a small sheet tray and place it in the oven and cook for 5-10 minutes. Check after 5 and move around to evenly brown. (don't forget its in there…I've done it LOL) Cool and set aside. I usually do this a day ahead.

This is totally optional but looks great. Scoop out about a cup of ice cream and shape into a ball.

Roll ice cream into toasted coconut and place into the freezer to firm up.

(I am showing picture on 1/2 of the recipe so you can see it better) Place your butter, sugar, cinnamon in a skillet and place over medium heat.

Once the butter and sugar start to melt sprinkle in a pinch of salt.

Add your bananas and pineapple, cook for about 2 minutes and then flip

once flipped get ready to add your rum

I used Bumbu, because that is what we had. But a dark bacardi, meyers, captain morgan or whatever your favorite dark rum is fine. You can also sub with pineapple juice or orange juice if you do not want to use alcohol

Add you rum. Off the heat if you have a gas stove. Then flame. I did this inside (not recommended be careful) and used a lighter. I usually do it outside at night and my guests always get a kick out of it. Cook until the flames die out and serve.

Time to plate it up. I like to place the fruit at the bottom and plop the ice cream on top with a little bit of whipped cream and mint, or a strawberry for extra color. And of course… I love to eat it outside.