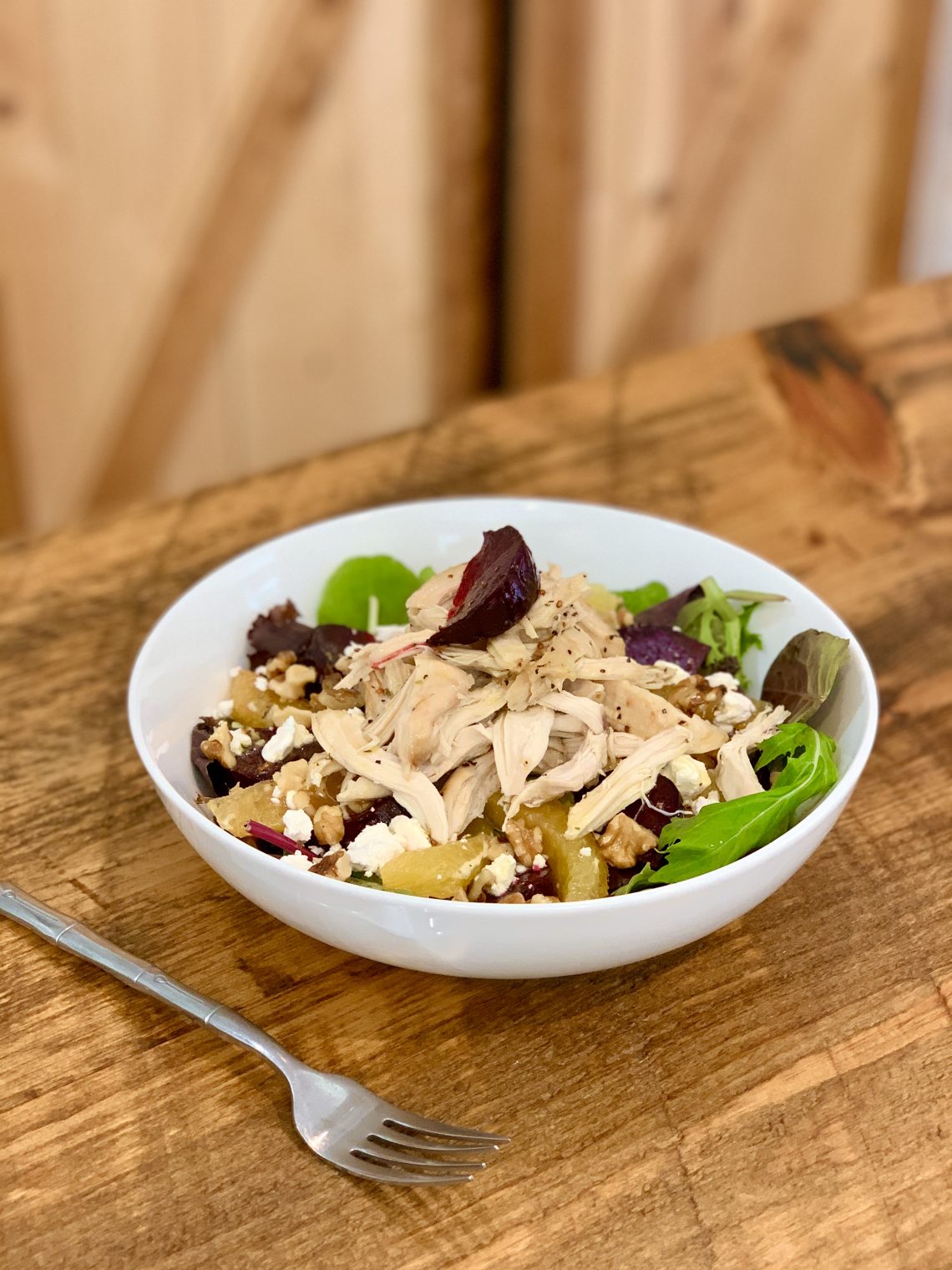 Excuse the sad pun, I couldn't help myself!
Beets are one of those things that people either love them or hate them. To be honest I thought I hated them for a long time. It wasn't something that was in my diet growing up and the only time I actually saw beets were in a salad bar in a murky strange liquid. Not the most appetizing thing in the world. But I've always prided myself on trying new things, even things I thought I didn't like. I have a rule about it too, don't just try something one way. If you don't like something, it just might be how it has been prepared.
My love affair with beets began about 15 years ago. And not only are they yummy and earthy and sweet, but they are sooo good for you, which is a bonus. They contain, antioxidants, protein, fiber, vitamin c, folate, vitamin b6, iron and so many other good things. So many things that a person like me living with fibromyalgia needs. Any little help I can get.
Now as good as beets are steamed with butter, or shredded raw in slaw, or as chips, or even ground and added to brownies (yea I said it, hide those bad boys in your desserts). My favorite way to eat beets hands down is in this super simple salad. The earthy sweetness is such a great contrast to the tart creaminess of goat cheese. Then you add the sweet acidity of the orange segments, nutty crunch of the walnuts and top with savory shredded chicken. The only thing that can make this better is my super simple vinaigrette.
I can eat this all the time. Unfortunately while I am a LOVE beets person, my family falls on the other side… where did I go wrong? I hope that someday they will see these beautiful little jewel colored tuberous roots as the amazing eats that they are. Until then, I guess I will have to eat them all!
Enjoy!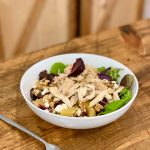 Print
Beet and goat cheese salad
Roasted beets, shredded chicken, orange segments, goat cheese and walnuts drizzled in a simple vinaigrette
Ingredients
Salad
12

cups

mixed greens

shredded chicken

see ingredient group

4

small

roasted beets

see ingredient group

2

navel oranges

segmented, juice squeezed and set aside for vinaigrette

4

oz

chevre

1/4

cup

walnuts

2/3

cup

vinaigrette

see ingredient group
Roasted beets
4

beets

small/medium

1/4

cup

olive oil

2

tsp

kosher salt
Baked chicken breast
2

boneless skinless chicken breast

2

tbsp

olive oil

Kosher salt

to taste

Black pepper

to taste

garlic powder

to taste
Vinaigrette
Orange juice

squeezed from oranges that you have segmented

white balsamic vinegar

enough added to the orange juice to make 1/3 cup

1

tsp

dijon mustard

1

tsp

honey

1/3

cup

olive oil

1/4

tsp

dry basil

1/8

tsp

garlic powder

Kosher salt

to taste

Black pepper

to taste
Instructions
After cleaning and drying your beets, cut top and bottoms off.

Drizzle with olive oil and season with kosher salt

Roast at 375 degrees until a pairing knife can easily be inserted, 45min to 1 hr

Bake chicken breast. Place on a sheet tray, drizzle with olive oil and season with salt, pepper and garlic. Bake for about 30 minutes until a thermometer reads at least 165 degrees.

Let cool slightly and shred

Squeeze segmented orange into a small bowl or measuring cup. Add white balsamic vinegar to reach 1/3 cup of liquid.

Add mustard, honey, seasoning and then whisk in olive oil.

Time to put it all together, you can toss the salad all together or compose it.